June 6th, 2012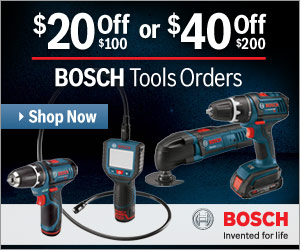 Hello all, this is Justin, the man behind the curtain over here at NowInStock.net. Aside from running NowInStock.net, I like to consider myself a professional shopper who is enamored with a great deal. And when I see deals, sometimes I like to use NowInStock.net as my forum to alert users and to aid in supporting NowInStock.net so it continues to remain FREE for all of you.
Father's Day is coming up on June 17th, and while I am not father, I am old enough to love most of the items that other fathers typically enjoy or make them feel manly.
Currently, Amazon is running a Bosch-sponsored Sale Event
where you can receive  $20 off of $100 or $40 off of $200+ with an order of Bosch items. When you add enough Bosch items to your cart, you will see the aforementioned savings reflected at the final checkout as Promotional Savings.
Bosch is a really good name when it comes to tools. They are up there with the best of them, and like most lines of tools there are the gems and there are rocks. But for the most part, almost all Bosch tools will result in being great gifts, especially when you get a great deal on them! I will run down some deals on Bosch items keeping in mind that in order to save, you will need to spend at least $100. Also, it is wise to purchase items in as many separate orders in order to save even more!
Here are some deals worth checking out:
Bosch 4100-09 10-Inch Worksite Table Saw with Gravity-Rise Stand – $569.99 minus the $40 savings = $529.99.

This is the lowest, or damn near the lowest, price you will EVER see this excellent table saw!
Purchase the saw first, then purchase some accessories separately to save even more. Below are some grouped purchases which will help you save the most while dad gets the most out of his machine:
Accessories Order Group #1 – Save $20 buy purchasing all these items in a separate order:
Accessories Order Group #2 – Save $20 buy purchasing all these items in a separate order:
Bosch PB360D Deluxe Power Box Jobsite Radio – A nice radio for the garage and outside/job-site usage. Siris hookup, MP3 and SD Card inputs, Radio, charges batteries, runs off of batteries or standard plug, sub-woofer, etc. Even comes with two FREE 18v Lithium-ion batteries right now as a mail-in offer! Price: $219.99 – $40 savings = $179.99!
Eliminate the "I Don't Have that Bit!" excuses with this bundle and save $20:
The above are just a few examples of the great deal going on right now over at Amazon with Bosch tools. Dad need another tool? Drills, Saws, all types of tools and accessories are part of this offer. And some of those tools even come with two-free batteries! Make sure to see if there is anything else Bosch you may want to buy for dad or yourself!
For the Two FREE Lithium-Ion Batteries, you will need to purchase one of the following Bosch models. Also, there is NO LIMIT on the number of redemptions for this offer! Here is the list of qualifying models:
24618-01, 24618-02, 25618-01, 25618-02, 26618-01, BSH180-01, CAG180-01, CCS180K, CRS180K, DDB180-02, DDH181-01, DDS181-01, DDS181-02, DDS181-03, DGSH181K, FNH180-16K, HDB180-02, HDH181-01, HDS181-01, HDS181-02, HDS181-03, HTH181-01, HTH182-01, IWH181-01, IWHT180-01, JSH180-01, PLH181K, RHH180-01, RHS181K, CLPK201-180, CLPK221-181, CLPK232-180, CLPK232-181, CLPK241-181, CLPK243-181, CLPK273-181, CLPK401-181, CLPK411-181, CLPK431-181, PB360D, PB360S – excludes any bare tools and reconditioned tools)