October 28th, 2008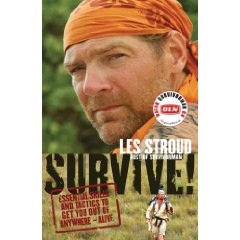 This holiday season, with the economy in shambles, you might be wondering what kind of Christmas gift to get for dad. Well I think I have the perfect gift for the dad that loves TV shows like Survivor Man with Les Stroud or Man Vs. Wild with Bear Grills.
Les Stroud from Survivor Man is releasing a new book on November 11th in the USA. The title of this book is Survive!: Essential Skills and Tactics to Get You Out of Anywhere – Alive. If you live in Canada, which is Les' home country, the book is being released there on November 4th. To get the Canadian version, click here
.
While the Canadian version is going for $21.95, the US version only costs $13.57 at Amazon
.
I can say from my own experience that I love both these shows, and I think this would be an awesome Christmas gift. Even if dad doesn't watch these shows but hunts, fishes, or hikes, this book could end up saving his life! Any outdoorsy person would love it.