September 1st, 2013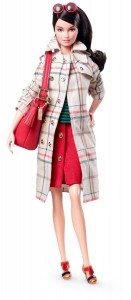 The initial launch of the Barbie Collector Coach Designer Doll (X8274) sold like hot cakes. From the Coach website, to even Barbie Collector and Amazon.com, it was sold out everywhere and 3rd-party sellers over on Amazon were/are commanding big bucks to have this doll shipped to your house.
Luckily for you, we have started tracking this doll at Amazon.com over in our Barbie Tracker, and at the time of this writing, stock is available for purchase at Amazon without the inflated costs. The doll retails for around the $100 mark, with Amazon selling it for $94.99. But, you better hurry as this doll will probably not last that long given the short track record. Err… correction, this doll has sold out already on Amazon. This just goes to show, you will need to be quick, even with our alerts you will need to be on your toes and might have to try multiple times to get this doll purchased.
If stock is once again sold out by the time you decide to purchase this doll, don't worry, just sign up for our FREE in stock alerts. No gimmicks, no SPAM, just in stock alerts for the items you subscribe to. If you already have an account with NowInStock.net, you can add this Barbie Coach Designer Doll to your account by visiting this page.