November 5th, 2013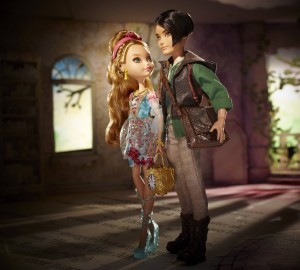 Right now, Amazon is offering the 2-Doll Pack with Ashlynn Ella & Hunter Huntsman from the new Ever After High™ series for only $21.97.
This is the lowest price we have ever seen for this set, and might just be the lowest price we will ever see. Given that the other individual dolls are selling for $19.97 at Amazon currently, it is quite shocking that the 2-doll pack costs only $2.00 more. This same 2-doll set, at retailers that still have stock available, is selling for $34.99+!
If you have been contemplating on beginning to collect the Ever After High series, then I would start with this two doll set, at this unbelievable price.
To see if stock is still available at Amazon, head over to our Ever After High Dolls In Stock Tracker.
One last item, I thought this series was going to fly out of the blocks with 49K+ likes on Facebook when the dolls were just in Justice. Since the release to all major retailers, sales have been somewhat slow from what I can tell. However, it is clear this series is beginning to gain momentum; FB likes have grown to nearly 76K  in just the past month.