May 8th, 2013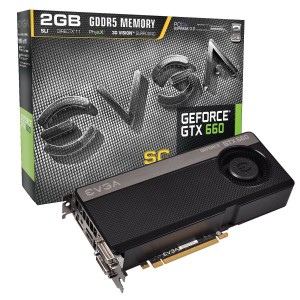 If you have been pondering a video card upgrade, then you might like to know that Tiger Direct has been able secure a special deal on the EVGA SuperClocked GeForce GTX 660 (02G-P4-2662-KR) with 2GB 192-bit GDDR5, PCI Express 3.0 x16, HDCP Ready SLI Support for only $179.99 with rebate. Hurry though, this offer is only valid through 5/10/2013.
How does this deal stack up with Tiger Direct's competitors?
Tiger Direct – $199.99 – $20.00 rebate = $179.99 <- Best Price!
Amazon – $204.15 – $10.00 rebate = $194.15
Newegg.com – $214.99 – $20.00 rebate = $194.15