September 28th, 2012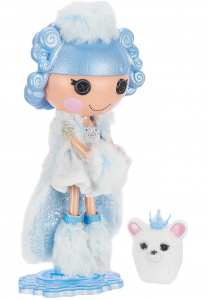 Lalaloopsy has released their 2012 Holiday Limited Edition Collector Doll – Ivory Ice Crystals. This shimmering ice princess is done up in shades of frosty white, silver and blue. Her hair is metallic blue with a dash of glitter. Dressed in a festive white dress that looks like it's made of snow, she also sports a sparkling faux fur cape, fluffy boots, hat and muff.  Joining Ivory Ice Crystals is her fuzzy crown-wearing pet polar bear.
Ivory Ice Crystals is a 12″ doll that comes with pet, stand and poster. She is made entirely of plastic and has moving limbs. Packaged in a special snow globe-inspired box.
Each year Lalaloopsy releases a special Limited Edition Holiday Collector Doll. This year's is already a huge hit. Stores are already selling out of this collector's item. NowInStock.net is tracking this highly sought-after doll so you can know exactly when it's in stock and get yours. Head over to the Lalaloopsy Dolls In Stock Tracker and look for Ivory Ice Crystals. If she's currently out of stock, be sure to sign up for FREE In Stock alerts.
If you are unfamiliar with NowInStock.net, we are a FREE web service that tracks the availability of hard-to-find items. Register for a FREE account and add the items you want alerted on to your account. As soon as we see the items you want in stock and available for purchase, we will alert you via TXT and/or email alerts. We also offer Browser Alerts for those users which are able to keep a browser window open all day long at work. It's simple and easy!