August 20th, 2012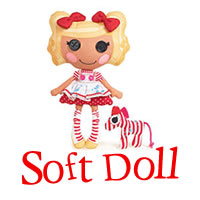 If you are looking to get your hands on some of the new Lalaloopsy Soft Dolls, then you might like to know that right now Little Tikes is having a sale on all the 2nd series Soft Dolls with each doll only costing  $9.99!
This is $5 off the average price of $14.99. So right now, you can get your hands on Soft-Dolls Spot Splatter Splash (510055), Peanut Big Top (510154), Jewel Sparkles (510307), Patch Treasurechest (509981) all for $39.96, that's a total savings of $20 off buying these dolls at normal price!
Head over to Little Tikes to pick up these dolls now before the sale ends!
If by the time you read this post inventory is sold out, then be sure to register with NowInStock.net for FREE, add the Lalaloopsy items you want alerted on, and we will send you in stock TXT or email alerts when inventory is back in stock and available for purchase.