July 17th, 2012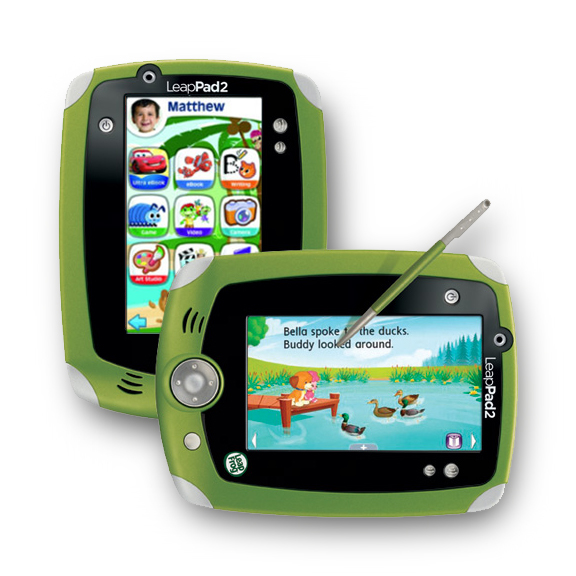 The original LeapFrog LeapPad Explorer received more than 20 awards including Toy of the Year and in 2011 sold more tablets for ages 4-8 than any other manufacturer in the market. Now LeapFrog has made the #1 learning tablet even better for kids and parents alike.
The LeapFrog LeapPad2 has the same ports, stylus, accelerometer sensor for shake/tilt detection and 5″ touchscreen (480 x 272) as the original LeapFrog LeapPad Explorer, but this new device is noticeably faster and the screen less "power hungry" than the original. The LeapPad 2 adds an additional front-facing 2MP camera, making those self portraits kids love even easier to take, while new content allows you to easily embed pics into apps. The rear camera has been upgraded to the higher 2MP resolution, and both cameras include a video recorder. Upgraded storage (now 4GB, up from 2GB on the original) allows you to store up to 20,000 photos. An upgraded 550 Mhz processor (up from 400) allows for updated graphics capabilities, smoother screen transitions and improved screen responsiveness. The LeapPad 2 will include Music Player + 5 LeapFrog Learning Songs, Cartoon Director and Art Studio Creativity Apps, Pet Pad Writing App + choice of additional apps. The LeapPad 2 is compatible with LeapFrog Explorer cartridges and LeapFrog App Center digital content. By the end of 2012 the LeapPad Content Library will include 325+ games, apps, music, videos and more!
Parents will appreciate the same $99 price point as the original LeapPad and the fact that enhanced bracing makes the new model more durable than ever. And parents' #1 request for better power options has been answered with improved battery life (allowing 1 extra hour of power) plus new recharging capabilities: an optional battery recharger (purchased separately) means never changing batteries again! The LeapPad 2 also adds age- and developmentally-appropriate content for 3 year olds, with 4 cartridges and numerous apps.
With its green body and silver accents, the LeapPad 2 looks different enough to easily distinguish it from the original white model while still maintaining the same overall look. A Disney Princess-themed pink and purple model will also be offered as a bundle with case and extra goodies for $30 more.
The LeapFrog LeapPad2 hits shelves in August in the UK, US, Canada and Ireland.
To learn more about LeapPad 2, head over to LeapFrog.com.