LEGO Ideas – The Insect Collection (21342) – A Great Set You'll Want To Display
August 23rd, 2023
Last updated on September 1st, 2023 at 05:03 pm
Are you seeking a new LEGO set to challenge your building skills and inspire curiosity? If so, you might want to check out the new LEGO Ideas The Insect Collection (21342), a stunning set that features realistic, life-size models of three amazing insects from different parts of the world.
DISCLOSURE: Purchases made via the links within this article may lead to us receiving commissions.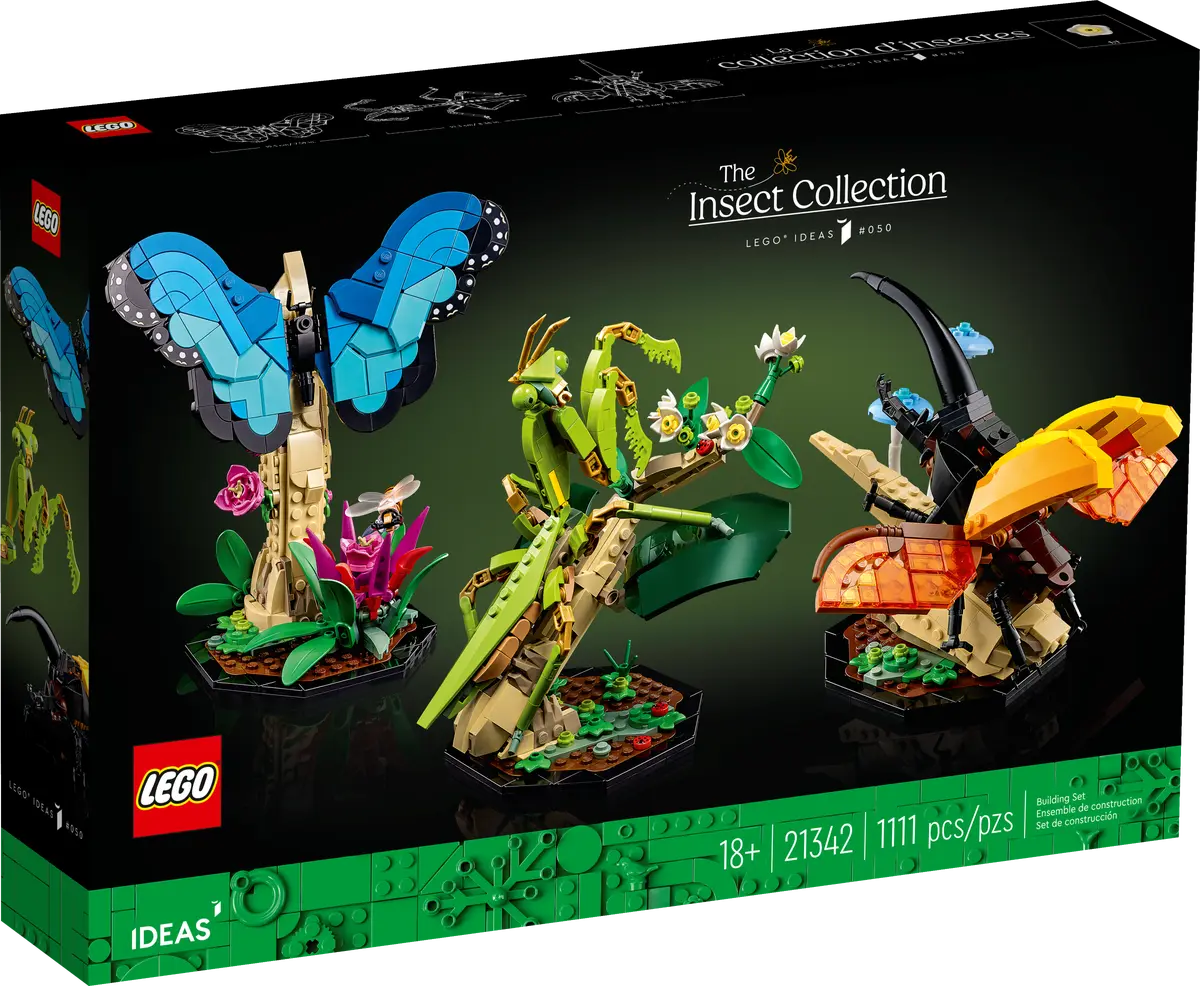 The Insect Collection is the 50th product from the LEGO Ideas platform, which allows fans to submit their original designs and vote for the ones they want to see become official LEGO sets. The fan designer behind this set is José María Pérez Suero, a science and art enthusiast who wanted to showcase the beauty and diversity of the insect world.
The set includes 1,111 pieces and three separate displays, each with a detailed insect model and a base representing its natural habitat. You can build a blue morpho butterfly with vibrant blue and white wings, a Hercules beetle with impressive horns and removable wings, and a Chinese mantis with long antennae and praying arms. Each insect is fully posable and has captivating details that make it look real.
Included with the set is a booklet containing building instructions (obviously), information about the insects and their biomes, and facts about the fan designer and the LEGO designers who worked on this set. You can learn more about the insects' anatomy, behavior, and role in the ecosystem and the challenges and techniques involved in creating these models with LEGO bricks.
The Insect Collection is a perfect set for anyone who loves nature, science, or art. It's a great way to explore the fascinating world of insects and appreciate their diversity and beauty. You can display the models in your home or office and impress your friends and family with your creations.
If you want this LEGO set, you can order it online EXCLUSIVELY at the official LEGO website. The set costs $79.99 USD and will be available on September 4, 2023, for LEGO VIP members and September 7, 2023, for all. Don't miss this opportunity to get your hands on this unique set!
Buy this EXCLUSIVE set:
LEGO Shop USA – $79.99
LEGO Shop Canada – 99.99 CAD
LEGO Shop UK – £69.99
LEGO Shop Mexico – $1,999.00
LEGO Shop France – 79,99 €
LEGO Shop España – 79,99 €
LEGO Shop Italy – 79,99 €
LEGO Shop Australia – $124.99

Need In Stock or Pre-order Alerts?
If this set becomes hard to find, use our LEGO Ideas Tracker for FREE in stock and pre-order alerts.
Specifications:
Theme: LEGO Ideas
Name: The Insect Collection
Item #: 21342
UPC: 673419384247
EAN: 5702017497877