September 10th, 2012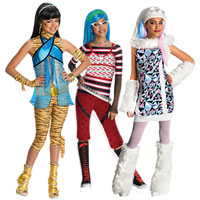 Right in time for Halloween, we've added a new Monster High Costumes In Stock Tracker.
Monster High costumes are sure to be a popular request this Halloween season, and now you can make sure your kids get the ones they want. These totally cool and cute costumes are officially licensed by Monster High. Choose from popular monsters like Frankie Stein, Abbey Bominable, Rochelle Goyle, Clawdeen Wolf and many others, including Sweet 1600 costumes, too.
Costumes can include accessories, and some also include shoes and wigs, but not all. Be sure to read what comes with each costume so you don't have to place multiple orders. If you don't get all accessories the first time around, you run the risk of not being able to get those forgotten items at a later date!
Don't waste your time scouring the stores and coming up empty handed– register for a free account and add the items you want alerted on. As soon as we see your Monster High costumes in stock, we will alert you via TXT or email. It's simple and quick!
And if you or any of your friends are looking for any other costume besides Monster High and having trouble finding it, be sure to let us know!