October 8th, 2013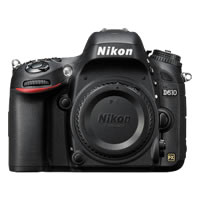 Early this morning, Nikon officially announced the new Nikon D610. Obviously the next iteration in the D600 level. As a result, we have launched the D610 Pre-order & In Stock Tracker for those looking to get their hands on this new camera. To see who has pre-orders currently available, head over to the tracker. Sign up for our FREE in stock alerts and we will alert via TXT, email or browser alerts you when you can purchase this camera.
Here are some of the highlights from the announcement:
D610 Primary Features
Nikon's exclusive technologies for superior image quality
An effective pixel count of 24.3-million pixels and an FX-format CMOS sensor
The EXPEED 3 image-processing engine with high-speed processing capabilities (same EXPEED 3 high-performance image-processing engine built into high-end D4, D800, and D800E Nikon FX-format cameras).
Auto white balance that achieves natural color reproduction
Picture Control for accurate reflection of user intent or creativity
NIKKOR lenses that maximize the superior rendering performance of the D610
High-speed continuous shooting at approximately 6 fps*1 for up to 100 shots*2, and quiet continuous shooting at approximately 3 fps*1
D610 basic performance and operation
AF system with 39 densely packed focus points, 7 of which are f/8 compatible
Scene Recognition System with highly precise and practical auto functions
An optical viewfinder with approximately 100% frame coverage
Double memory card slots for effective use of 2 SD memory cards
Built-in flash capable of wireless multiple-flash control
D610 Video Features
Recording of 1920 x 1080/30p full-HD movies that make a variety of forms of expression possible
Multi-area mode Full HD D-movie: Offers two movie formats
Time-lapse photography
D610 Accessories
System expansion that includes support for wireless accessories such as the Wireless Remote Controllers WR-R10/WR-T10 and Wireless Mobile Adapter WU-1b (accessories available separately).
To read the full release, head over to the Nikon site.