September 11th, 2012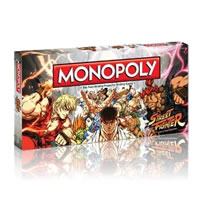 Well it seems that Amazon sold out on their initial allotment of Monopoly: Street Fighter Collector's Edition, but we know where you can still get a pre-order in. Just head over to our newly launched Street Fighter Monopoly In Stock Tracker and see if pre-orders are still available.
If pre-orders are already gone or you are willing to wait for the item to come in stock, which might be a big risk since being a Collector's Edition usually means limited run in production, then you should register for a free account and add the items we are tracking to your account. Remember, you can still receive pre-order alerts through this tracker, you just need to make sure after you have added the items you want to your account that you toggle the pre-order alert option.