May 21st, 2008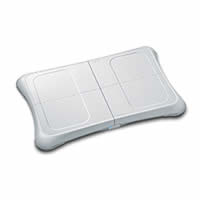 As some of you may have already noticed from the grotesque notice at the top of each page, the Wii Fit Tracker is now live. I have added a decent amount of stores to the list. Nothing to extreme. These are all of the places that will give me a commission on sales of the units, so please use the links.
Since there is only one model at this time, which is White, I have labeled the models as White. ("A" for Creativity, huh?) I am not sure why they made a product that you put your feet on white other than the obvious being the console is white, but I can't imagine this thing staying clean long. This based on the notion that kids will be playing outside in the yard only to come in and place their grassed-stained feet on it. Before long, I envision a mess. This is why i am recommending that you also pick up one of the Silicone Sleeves to help protect it. I see the Clear version is being released on June 12th, but the Pink and Blue are supposedly available. However, at Amazon it still says preorder regardless of which color you select. Go figure!
In closing, let's get a Wii Fit for all of you! Visit the tracker and sign up to email alerts on the left.
Justin