November 15th, 2013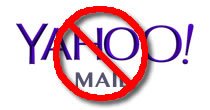 If you are looking to sign up with NowInStock.net for email alerts, or already signed up with a NowInStock.net account, you should be aware that we are encountering alert delivery issues with Yahoo! Mail. There is nothing we can do on our end. This is an issue that crops up every year once we start delivering mass amounts of in stock and/or pre-order email alerts. All other email providers are delivering our mail in a timely fashion. As a result of this delay, it is highly recommended that you use a different email provider (Gmail, Hotmail, etc) if you are planning on using "email" alerts. TXT alert delivery is not affected by this.
How to Fix the Issue:
If you are signing up for the first time, just select a different email provider account (such as Gmail) when signing up.
If you are already a NowInStock.net account holder, it is high suggested that you change your account username/email address within your account. Not only will this fix any potential delivery issues this year, but also into the future. This can be accomplished by logging in and using  the form on the left hand side of the My Account page.
I know this might not be the most optimal solution, but we have contacted Yahoo! Mail and the issue goes unresolved. When alerts are sent, our mail queue backs up with delayed Yahoo mail. Basically they are throttling delivery to the point where some email deliveries will be worthless as stock will be gone by the time the email reaches your inbox.
Thanks!